Cricket T20: l'Australia batte il Sudafrica di 6 wicket nell'ultimo test prima del Mondiale
Commenti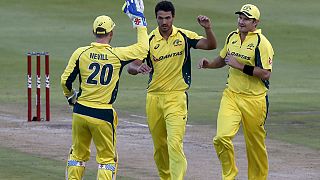 A Città del Capo l'Australia ha battuto il Sudafrica di 6 wicket nel terzo e ultimo test tra le due nazionali prima del loro debutto nella Coppa del Mondo T20 di cricket in India.
Ai padroni di casa non è bastata la grande prestazione di Hashim Amla, autore di 97 dei 178 punti messi a segno dal Sudafrica e scelto come man of the match nonostante la sconfitta.
I due test precedenti si erano conclusi con una vittoria a testa: il Sudafrica si era aggiudicato il primo match a Durban, mentre gli ospiti avevano avuto la meglio nella rivincita giocata a Johannesburg.
Le due nazionali si sposteranno ora in India per la Coppa del Mondo. Il Sudafrica è inserito nel gruppo A assieme a Sri Lanka, Indie Occidentali, Inghilterra e la vincitrice del turno preliminare.
E' andata peggio all'Australia, inserita in quello che è stato ribattezzato 'gruppo della morte' e che comprende India, Nuova Zelanda, Pakistan e la seconda qualificata del turno preliminare.