Cina, disastro di Shenzhen: dal fango della frana il primo cadavere, 81 dispersi
Commenti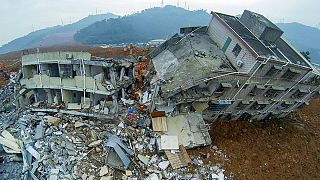 Il primo cadavere è stato estratto dal fango della frana che ha colpito domenica un'area industriale alla periferia di Shenzhen, nel sud della Cina. 81 i dispersi. A essere venuta giù dopo le piogge è stata una montagna di terra accumulata illegalmente ai margini degli edifici. La frana ha spezzato una tubatura di gas causato una potente deflagrazione e il crollo di 33 edifici, tra cui 14 impianti industriali.
#ChinaonTwitter: Rescue after #Shenzhen landslide; Top Google</a> searches about China in 2015; <a href="https://t.co/4EajLar3id">https://t.co/4EajLar3id</a> <a href="https://t.co/AVEOuJBvez">pic.twitter.com/AVEOuJBvez</a></p>&mdash; China Xinhua News (XHNews) 22 Dicembre 2015
"Non lavoravamo quel giorno e stavamo dormendo. Quando ci siamo svegliati abbiamo appreso la notizia dell'esplosione e siamo venuti a vedere", racconta Wang Bin, impiegato in una società del distretto industriale.
"Abbiamo pensato che fosse un terremoto così siamo venuti a dare un'occhiata e abbiamo fatto alcune foto. Dopo aver scattato le fotografie ci siamo resi conto che gli edifici erano tutti crollati così siamo corsi via", dice Dong Jian, un residente della zona adiacente il disastro.
Rescue teams are racing against time to search for the missing after a landslide hit #Shenzhen on December 20th. pic.twitter.com/E0Z1bH1Glh

— Global Times (@globaltimesnews) 21 Dicembre 2015
3.000 soccorritori sono impegnati nella ricerca, 1500 le persone evacuate, 14 quelle estratte vive ma la speranza di trovarne altre diminuisce col passare delle ore.
Si tratta del più grande disastro industriale in Cina dalle esplosioni al porto di Tianjin dell'agosto scorso.