Romania: dimissioni governo non placano la rabbia, manifestanti alle consultazioni
Commenti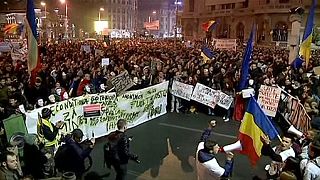 Non sono bastate la caduta del governo, la nomina di un premier a interim e l'avvio delle consultazioni. Per la terza notte consecutiva in Romania continua la protesta contro la corruzione.
Romanians' cold revolt against corruption https://t.co/jEvee8vP33#romania#ColectivClub#colectivpic.twitter.com/5zFOd9LYzh

— Thomas Seymat (@tseymat) November 5, 2015
A far esplodere la rabbia, la tragedia della discoteca Colectiv di Bucarest, ma da tempo l'opinione pubblica chiedeva la testa del premier Victor Ponta, sotto inchiesta in due diversi procedimenti per riciclaggio di denaro, corruzione e falso.
#BREAKING Romania's PM Victor Ponta to resign today following protests over corruption and nightclub tragedy pic.twitter.com/jDCebNKVuI

— euronews (@euronews) November 4, 2015
"Forse avremo elezioni anticipate – dice Gigi Dinea, una manifestante – Bisogna leggere le liste dei candidati con estrema attenzione e dire ai più giovani che hanno il nostro sostegno, ma che devono stare attenti a fidarsi e a votare".
Sarà Sorin Campeanu a garantire la gestione ordinaria della Romania, in attesa che sia formato un nuovo governo.
"Ho discusso con i leader di tutti i partiti – ha detto il premier a interim – e ho chiesto il loro sostegno per continuare questa missione che, a mio parere, è difficile. La Romania è e deve rimanere un fattore di stabilità".
Alle consultazioni per il nuovo premier – ha annunciato il presidente, Klaus Iohannis – è stata invitata una delegazione dei manifestanti in rappresentanza della società civile.
L'ipotesi elezioni anticipate potrebbe prendere corpo se il Parlamento bocciasse per due volte i premier incaricati.
Who is misusing EU cash – fraud office wants to recover €900m & half is from just 3 countries http://t.co/kInBPnm7fmpic.twitter.com/u73okK3uJy

— euronews (@euronews) June 4, 2015