Riunione dei ministri dell'interno per dividersi l'accoglienza dei rifugiati. Profonde divisioni tra i paesi europei.
Commenti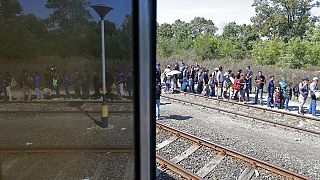 La decisione della Germania di reintrodurre controlli alle frontiere getta un'ombra sulla riunione dei ministri europei degli interni oggi a Bruxelles. Anche l'Austria ha annunciato l'intervento dell'esercito per rafforrzare i controlli.
I ministri sono chiamati a trovare un accordo sulla proposta della commissione europea di suddividere 160.000 rifugiati, 54.000 stanziati in Ungheria, 39600 dall'Italia e oltre 66.000 dalla Grecia.
Ma molti paesi europei, in particolare nell'est Europa sono contrari. Polonia, Repubblica ceca, Ungheria e Slovacchia si sono opposti ad un sistema di quote obbligatorio per dividersi i rifugiati.
Il presidente del Consiglio europeo, il polacco Donald Tusk venerdi' ha tentato la mediazione forzata ed annunciato via twitter che, se non ci saranno risultati al termine della riunione di lunedi', organizzerà un summit straordinario dei capi di stato e di governo.
Without concrete sign of solidarity and unity from JHA ministers Monday, I will call extra #EUCO in September on refugee crisis

— Donald Tusk (@eucopresident) 11 Settembre 2015
Secondo il vice cancelliere tedesco Gabriel la Germania potrebbe ricevere quest'anno 1 milione di profughi, molto di piu' di quanto inizialmente previsto.