Fiamme in California, dichiarato lo stato d'emergenza
Commenti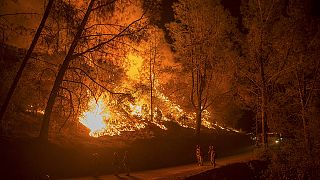 Un centinaio di case ed edifici sono stati distrutti dalle fiamme nel Nord della California dove il governatore Jerry Brown ha dichiarato lo stato d'emergenza.
Una delle località più colpite dalla devastazione degli incendi è Middletown; migliaia le persone costrette ad abbandonare le proprie case.
#LACoFD joins numerous other Fire Departments from across the state of California to assis… http://t.co/KtvfvNrMiLpic.twitter.com/hhU4qPdhbR

— LACoFD (@LACo_FD) 13 Settembre 2015
Le fiamme si propagano con particolare velocità anche a causa dei forti venti. Un secondo grande focolaio è quello a Nord di San Francisco dove un'area pari ad oltre
16.000 ettari di terreno è andata distrutta.
Oltre 5.000 vigili del fuoco sono mobilitati contro gli incendi. Le autorità californiane hanno dichiarato che a causa delle fiamme la qualità dell'aria in tutto lo Stato risulta pesantemente deteriorata.
#LACoFD joins numerous other Fire Departments from across the state of California to assis… http://t.co/KtvfvNrMiLpic.twitter.com/hhU4qPdhbR

— LACoFD (@LACo_FD) 13 Settembre 2015