La pecora Chris, 40 chili di morbidezza
Commenti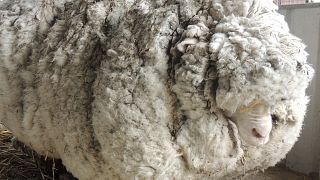 Con i suoi 40 chili di lana merino, Chris, la pecorella smarrita nelle lande australiane ha battuto tutti i record.
A ritrovarla nelle campagne di Canberra due allevatori che si sono detti impressionati dal manto di lana.
La pecora ha probabilmente 6 anni e in tutto questo tempo non è mai stata tosata.
Durante l'operazione di toilettage si è mostrata docile e per niente impaurita.
Sheep "Chris" is now pondering his new lighter self post rspcaact</a>. Note that the pink stain is antiseptic spray. <a href="http://t.co/zDwrfxb9qn">pic.twitter.com/zDwrfxb9qn</a></p>&mdash; Tammy Ven Dange (tvendange) September 3, 2015
Dopo la tosatura sono rimasti a terra 40 chili di pelo o, se preferite, di soffice lana merino che azzerano il precedente record di 27 chili di lana ottenuti da Shrek, un'altra pecora ribelle, nel 2004. Neozelandese,Shrek è morta nel 2011.
Thx who asked – Chris had some minor health concerns under the wool, but lucky we got to it before summer! rspcaact</a></p>&mdash; Tammy Ven Dange (tvendange) September 3, 2015