Usa, strage di Aurora: sconcerto tra i familiari per la sentenza di ergastolo
Commenti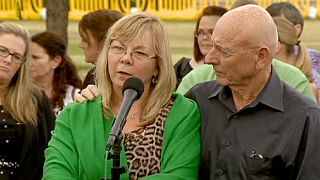 Dolore e sconcerto negli Stati Uniti tra i familiari delle vittime per la sentenza di ergastolo e non pena di morte per James Holmes. Il 27enne il 20 luglio 2012 sparò contro il pubblico di un cinema di Aurora, vicino a Denver, nel Colorado, facendo 12 morti.
I 12 giurati si sono spaccati sull'esecuzione capitale, la scelta è caduta sul carcere a vita con l'esclusione a priori dei benefici di legge per uscire dalla prigione.
RAW: Judge Carlos Samour reads the verdict in Aurora #theatershooting trial: http://t.co/CDCr3UcMyY

— Aurora Theater Trial (@theatershooting) August 8, 2015
"Le nostre vite sono state distrutte per sempre, il pensiero che questo mostro possa ricevere le visite dei suoi genitori, vedere le email e le fotografie della sua molto strana fidanzata è una cosa tanto dura da accettare", ha detto Sandy Phillips che ha perso la figlia Jessica di 24 anni.
NOW: Families, friends of #theatershooting victims react to life sentence http://t.co/0LD5U1qBiH

— Aurora Theater Trial (@theatershooting) August 8, 2015
"I nostri cari sono andati via per sempre, non potremo mai più abbracciarli. Non potremo mai più dirgli che li amiamo, stringerli ancora come abbiamo fatto l'ultima volta che li abbiamo visti, ci mancano", ha aggiunto Dave Hoover, zio di un ragazzo di 18 anni.
Holmes era stato giudicato colpevole di oltre 160 capi d'imputazione. L'accusa aveva chiesto un'iniezione letale. La difesa ha puntato sull'infermità mentale: tesi respinta dalla giuria, che pur ritenendolo "sano di mente" e "responsabile" del gesto, non ha trovato l'unanimità necessaria sull'esecuzione capitale.