"La biblioteca di Bin Laden". Cia pubblica documenti trovati a Abbottabad
Commenti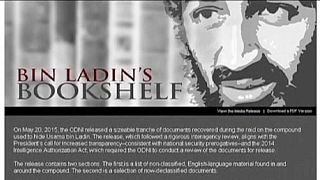 L'intelligence americana rende pubblici una serie di documenti sinora top secret su Osama Bin Laden.
Si tratta dei materiali ritrovati nella residenza di Abbottabad, in Pakistan, dove il leader di Al-Qaeda ha vissuto gli ultimi anni prima di essere ucciso nel discusso blitz delle forze speciali americane, nel 2011.
This morning the ODNI released documents recovered during the May 2011 Usama bin Ladin raid: http://t.co/BKt47P9dgJpic.twitter.com/VZE00rfyak

— Office of the

DNI

(@ODNIgov) 20 Maggio 2015
Tra i libri, gli articoli di stampa e gli appunti del capo della rete terroristica, numerose le indicazioni che l'America restava l'obiettivo numero uno.
Ma tanto materiale indicava anche un interesse per l'economia della Francia. Secondo alcuni analisti, ci sarebbe stata l'intenzione d'affondare una delle principali economie europee.
La pubblicazione dei file classificati arriva a pochi giorni dall'inchiesta del giornalista premio Pulitzer Seymour Hersh che ha smontato la versione dell'amministrazione Obama su come si sia arrivati al blitz e all'uccisione di Bin Laden.