Sci, CdM: Reichelt imprendibile a Kvitfjell. Heel torna sul podio
Commenti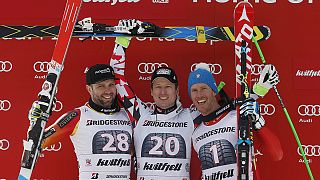 Hannes Reichelt si conferma imprendibile in questo 2015 centrando nella discesa di Kvitfjell, in Norvegia, la quinta vittoria stagionale, la seconda consecutiva in Coppa del mondo dopo quella di Garmisch. L'austriaco, che ora ha solo 20 punti di ritardo dal leader della classifica di specialità, il norvegese Kjetil Jansrud, ha chiuso una prova praticamente perfetta precedendo di 30 centesimi Manuel Osborne-Paradis.
Great job for HReichelt</a> <a href="https://twitter.com/manny_ski">manny_ski and #WernerHeel as they top the DH standing at #worldcupkvitfjell ! pic.twitter.com/YdEBYFZL7O

—

FIS

Alpine (@fisalpine) 7 Marzo 2015
Il canadese, al secondo podio della stagione dopo quello conquistato a novembre sulle nevi di casa di Lake Louise, è stato autore di un grande finale di gara, dove ha superato i 150 km orari di velocità di punta.
Werner Heel torna a ruggire dopo due anni | FISI Official http://t.co/pgcwKHFOdf

— Fisiofficial (@Fisiofficial) 7 Marzo 2015
Terza piazza per un ritrovato Werner Heel, tornato a giocarsi la vittoria dopo due anni di anonimato. L'azzurro, staccato di appena 38 centesimi da Reichelt, ha centrato il decimo podio della carriera, il quarto a Kvitfjell, decisamente la sua pista favorita. Non si puo' dire lo stesso per il per il norvegese Kilde, protagonista di una rovinosa caduta, fortunatamente senza conseguenze.