Fifa, Figo sfida Blatter: "Mi candido alla presidenza"
Commenti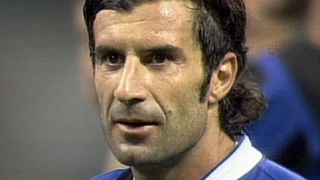 Anche Luis Figo lancia il suo guanto di sfida a Sepp Blatter. L'ex calciatore portoghese ha annunciato la sua candidatura alle elezioni per la presidenza della Fifa in programma il prossimo 29 maggio.
I'm delighted to announce my candidacy for the FIFA Presidency. Football has given me so much during my life & I want to give something back

— Luís Figo (@LuisFigo) 28 Gennaio 2015
Figo ha rivelato di avere il sostegno di cinque federazioni, requisito necessario per partecipare alle elezioni, ma non ha rivelato quali. L'ex Pallone d'oro ha aggiunto che a spingerlo a candidarsi è stato lo scandalo sull'assegnazione dei Mondiali del 2018 e 2022 a Russia e Qatar.
I thank the Associations that have shown their support and I look forward to explaining in detail my programme and my vision for football

— Luís Figo (@LuisFigo) 28 Gennaio 2015
"Bisogna cambiare la leadership e la governance, servono trasparenza e solidarieta", le parole dell'ex giocatore di Barcellona, Real Madrid e Inter. La candidatura di Figo arriva qualche giorno dopo quella di un altro ex calciatore, David Ginola. Finora però il francese non ha trovato il sostegno di alcuna federazione e sembra quanto meno improbabile che riesca a farlo entro il 29 gennaio, termine ultimo per presentare la candidatura.