Poroshenko accoglie i primi militari ucraini scambiati con i ribelli
Commenti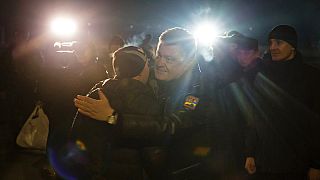 E' presto per cantare vittoria, ma la liberazione dei 145 soldati ucraini scambiati con i ribelli pro-russi, segna un importante passo verso la pacificazione dell'Est del Paese. Ne è convinto il presidente Petro Poroshenko, che all'alba di sabato ha accolto su una pista di Vasilkiv, non lontano dalla capitale, i primi militari che Kiev è riuscita a riportare a casa come contropartita della liberazione di 222 separatisti.
145 prisoners, released yesterday in East arrived to Kiev, greeted by Pres. @poroshenko VIDEO http://t.co/k7WnYT7lC1

— NSDC of Ukraine (@NSDC_ua) 27 Dicembre 2014
"Da Presidente e da cittadino, il cuore mi si riempie di gioia – ha detto Poroshenko -. Come vi avevo promesso potrete festeggiare il nuovo anno con le vostre famiglie e i vostri compagni d'armi. E' la notizia che come voi, tutti noi aspettavamo da tempo". "Vi ringrazio di cuore – ha poi concluso il Presidente, prima di augurare in coro con gli stessi militari "lunga vita all'Ucraina e lunga vita agli eroi".
Talks of Contact Group in Minsk unscheduled for Friday — Belarusian Foreign Ministry http://t.co/yw6KmWho8h

— ITAR-TASS (@ITARTASSnews_en) 26 Dicembre 2014
Se ulteriori scambi di prigionieri sono già in programma, i negoziati fra Kiev e ribelli si sono arenati dopo l'ultimo incontro di mercoledì soprattutto su questioni legate ai finanziamenti e allo statuto da riconoscere alle regioni di Donetsk e Lugansk.