Cloro alla fiera di Chicago: evacuati centinaia di "peluche umani"
Commenti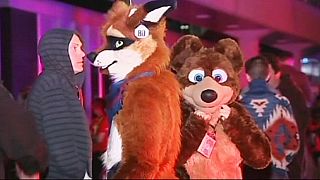 Colorato esodo, alla periferia di Chicago, dove una fuga di cloro ha portato all'evacuazione di un hotel che ospitava la "MidWest Fur Fest": una convention che riuniva appassionati di maschere di animali.
There were 19 people hospitalized after a possible chemical attack at a Furry convention http://t.co/54ZhMTEUALpic.twitter.com/XfxIW8Q0T0

— BuzzFeed News (@BuzzFeedNews) 7 Dicembre 2014
Diciannove di loro sono stati portati in ospedale con vari sintomi, ma al momento dell'incidente l'organizzatore ancora ostentava il buonumore.
"Tutto stava andando per il meglio – dice Samuel Conway -. Non sappiamo esattamente cosa stia accadendo. Ci hanno chiesto di lasciare l'hotel senza spiegarci il perché. Per fortuna molti dei nostri ospiti hanno dei costumi… caldi e pelosi e quindi non ci allarmiamo!".
Honestly? BuzzFeed had the best article about the #MWFF2014 incident. Tells it in our own tweets. Good stuff. http://t.co/gXZPIAupWS

— MWFF Survivor Jag (@ZeiglerJaguar) 8 Dicembre 2014
Ironia della sorte, molti dei "pelosi" partecipanti sono stati evacuati in un vicino albergo che ospitava una fiera canina. Dopo i primi rilievi, la polizia ha lasciato intendere di prediligere la pista di un "attacco intenzionale".