Cricket: l'Australia si ferma per l'addio a Phillip Hughes
Commenti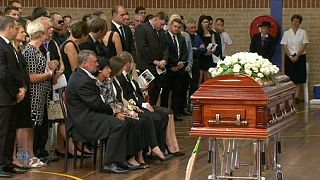 Funerali in diretta televisiva in Australia per Phillip Hughes. Il famoso giocatore di cricket è stato colpito mortalmente alla testa da una pallina durante un match, martedì scorso.
Un'intera nazione ha rivolto lo sguardo a Macksville, 400 chilomentri a nord di Sydney, dove l'atleta 25enne è cresciuto.
Australia v India Test series dates altered after Phillip Hughes' death http://t.co/Md3S4FnHxOGuardian_sport</a></p>&mdash; The Guardian (guardian) December 1, 2014
Presente ai funerali anche il premier australiano, Tony Abbott, e il capitano della nazionale australiana.
'He (#PhillipHughes) would definitely be calling me a sook (crybaby) right now' #MichaelClarkehttp://t.co/pEyVSiTeuSpic.twitter.com/XaX0efQ79o

— Express Sports (@IExpressSports) December 3, 2014
Dopo la morte di Hughes, i 'Kangaroos' hanno posticipato il test match contro l'India previsto per il 4 dicembre.
Hughes, che questo weekend avrebbe compiuto 26 anni, era stato centrato da una pallina mentre lanciava per i South Australia al Sydney Ground. Nonostante il casco protettivo, la pallina si era infilata alla base del cranio provocandogli una emorragia interna.
Al termine dei funerali, una folla di duemila persone ha raggiunto in corteo la casa d'infanzia dello sfortunato campione.
The pallbearers with Phillip Hughes' casket. pic.twitter.com/bVlRyNYvdf

— Bridie Jabour (@bkjabour) December 3, 2014