Ue equilibrista fra Russia e Ucraina al vertice del partenariato orientale
Commenti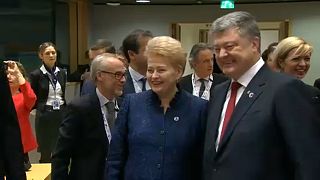 Economia, governance, connettività e società: sono i quattro settori prioritari del partenariato orientale fra Unione europea e sei paesi dell'Europa orientale e del Caucaso meridionale, di cui si è tenuto a Bruxelles il quinto vertice biennale.
Al termine della riunione, il presidente del Consiglio Donald Tusk ha precisato:"Il partenariato orientale non è diretto contro la Russia, non è una gara di bellezza geopolitica fra la Russia e l'Unione europea, ma un reale partenariato fra paesi sovrani".
0Ma uno di questi paesi sovrani è proprio l'Ucraina, dove la regione del Donbass è devastata dal conflitto con i separatisti filo russi. Non una scusa per rallentare le riforme richieste nel processo di avvicinamento all'Unione europea, ha fatto capire il presidente della Commissione.
"L'Ucraina fa progressi notevoli, ma non fa tutti i progressi che vorremmo noi – ha detto Jean-Claude Juncker -. Bisogna fare le riforme necessarie per rafforzare la buona governance e lottare con fermezza contro la corruzione".
Meeting President Poroshenko</a> to prepare the <a href="https://twitter.com/hashtag/EaPSummit?src=hash&ref_src=twsrc%5Etfw">#EaPSummit</a>.<br>Sadly also a moment to mourn the death of veteran activist Vedzhiye Kashka and express our solidarity with the Crimean Tatar community and all of Ukraine.<br>EU will never recognise Russia's illegal annexation of Crimea. <a href="https://t.co/Pc4uwleVGN">pic.twitter.com/Pc4uwleVGN</a></p>— Donald Tusk (eucopresident) 23 novembre 2017
A questo vertice per la prima volta è stato invitato il presidente bielorusso Alexsandr Lukashenko, che ha inviato il suo ministro degli esteri. Con gli accordi di Minsk Lukashenko è diventato per l'Europa un interlocutore credibile se non indispensabile.