Mogherini: la Difesa europea non è in competizione con la Nato
Commenti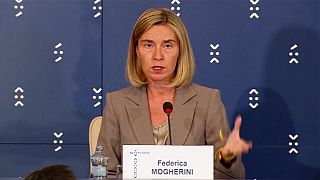 Nessun doppione, nessun intralcio ma piuttosto una maggiore cooperazione tra l'Unione europea e la Nato.
Al termine della riunione dei ministri della difesa europei a Bratislava, l'alto rappresentante per la politica estera Federica Mogherini ha dichiarato di non gareggiare con l'Alleanza Atlantica:
"Il lavoro che stiamo facendo per rafforzare la difesa europea dentro l'Unione e il partenariato con la Nato non è in alcun modo nè in contraddizione né in competizione, ma rafforza la nostra attività comune".
Stronger Europe makes NATO stronger. Discussing how with EU defence ministers and FedericaMog</a> in Bratislava <a href="https://twitter.com/eu2016sk">eu2016skpic.twitter.com/VZuthcMAdJ

— Jens Stoltenberg (@jensstoltenberg) 27 settembre 2016
Mogherini ha risposto cosi' alle polemiche sollevate dal ministro della difesa britannico Michael Fallon in apertura della riunione: "Continuiamo ad opporci a qualsiasi idea di un esercito europeo o di un quartiere generale europeo che potrebbe solo indebolire la Nato. La Nato deve rimanere la pietra angolare della nostra difesa"
Boris wants Turkey in the EU, Fallon wants to block EU army. Someone should tell them Britain is leaving the EU https://t.co/rlOSgbbuZv

— Anne Applebaum (@anneapplebaum) 27 settembre 2016
Sostenuta anche dal segretario generale della Nato, Mogherini intende invece rilanciare l'industria militare, l'Unione europea, investe la metà degli Stati Uniti in difesa.