Trump vs Rubio: scontro a suon di sorsi d'acqua
Commenti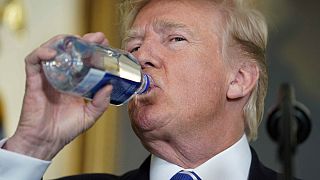 Se il livello della politica statunitense non supera i 33 centilitri di una bottiglietta d'acqua.
Donald Trump ha avuto a sua volta il fatidico momento di sete nel bel mezzo di una conferenza stampa. Ricerca di una bottiglia d'acqua a portata di mano, difficoltà nel trovarla, un aiutino che arriva dalla platea. E finalmente tutto si risolve…in un sorsetto appena percettibile.
Ma il gioco è fatto: Trump ha emulato, volontariamente o meno, la scena per la quale tanto aveva preso in giro il Senatore Repubblicano ed ex-candidato alle presidenziali Marco Rubio.
Il quale Rubio ha avuto ovviamente gioco facile nel prendere a sua volta in giro Trump: "Non c'è male ma resta un po' di lavoro da fare" ha scritto via Twitter. "Ci vuole un movimento unico, occhi fissi alla telecamera. Ma come prima volta non c'è male".
Similar,but needs work on his form.Has to be done in one single motion & eyes should never leave the camera. But not bad for his 1st time https://t.co/s49JtyRo3S

— Marco Rubio (@marcorubio) 15 novembre 2017
Durante la campagna elettorale, in Texas, il 26 febbraio 2016, Trump aveva fatto la caricatura del gesto di Rubio. All'orizzonte delle prossime elezioni s'attende un passaggio alla bottiglia da 75 cl.
Trump made fun of Marco Rubio for needing water! BAHAHApic.twitter.com/hkcNlC7tbT

— Erick Fernandez (@ErickFernandez) November 15, 2017