New York: veicolo piomba su una pista ciclabile, almeno 8 morti
Commenti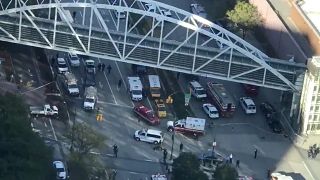 New York fa i conti con il primo attentato dopo l'11 settembre. Erano le 15 di martedi, in italia le 21, quando un pick up noleggiato da una popolare catena di bricolage, si è schiantato contro un gruppo di ciclisti su una pista lungo il fiume Hudson, per poi finire contro uno scuola bus nella zona sud di manhattan, a poche centinaia di metri dal memoriale dell'11 settembre. 8 i morti, tra cui un cittadino belga e 5 argentini, e una quindicina i feriti. L'autista è sceso dal furgone con due pistole rivelatesi poi finte, urlando Allah Akbar. Colpito a una gamba dalla polizia l'uomo, un cittadino uzbeko di 29 anni residente in Florida di nome Sazfull Saipov, è stato arrestato e ricoverato in ospedale.
Immediata la reazione su twitter del presidente Trump:
My thoughts, condolences and prayers to the victims and families of the New York City terrorist attack. God and your country are with you!

— Donald J. Trump (@realDonaldTrump) 31 octobre 2017
We must not allow ISIS to return, or enter, our country after defeating them in the Middle East and elsewhere. Enough!

— Donald J. Trump (@realDonaldTrump) 31 octobre 2017
Il sindaco di New York, Bill de Blasio ha tenuto una conferenza stampa poco dopo i fatti: "E' stato un atto di terrore particolarmente vigliacco. Ha colpito civili innocenti, preso di mira persone che non avrebbero mai potuto immaginare quello che li aspettava".
L'Fbi indaga per terrorismo, la dinamica risponde esattamente al tipico modus operandi dell'Isis, anche se al momento sembra che si sia trattato del gesto di un "lupo solitario". A bordo del furgone è stato rinvenuto un biglietto in cui l'uomo dichiarava di agire in nome dell'Isis.