La storia del piccolo Farhad: da rifugiato afghano a ''piccolo Picasso''
Commenti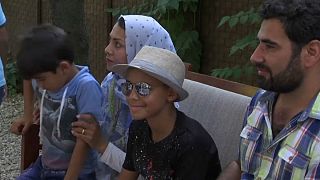 Farhad Nouri ha solo 10 anni, ma porta un soprannome pesante: ''Il piccolo Picasso''. Farhad è un rifugiato afghano, che da otto mesi vive in un centro in Serbia con la famiglia. Ha un grande talento artistico, che ha attirato l'attenzione di una ONG. Ed è così che è stata organizzata una mostra in un bar di Belgrado, con le opere del giovane artista.
Farhad Nouri, el pequeño "Picasso" afgano que usa la pintura para escapar de la realidad de los refugiados https://t.co/Vrk3GjSffypic.twitter.com/LRYS0kViPw

— Emol.com (@Emol) 15 marzo 2017
"Abbiamo incontrato Farhad un mese dopo il suo arrivo in Serbia. Qualche giorno dopo, nel campo rifugiati abbiamo scoperto il suo talento. Ha iniziato a frequentare corsi di pittura e fotografia e abbiamo voluto mostrare quello che aveva imparato durante le lezioni'', spiega Anita Milev, membro di una fondazione per i rifugiati.
Refugee Farhad Nouri dubbed 'the little Picasso' to hold first art exhibition – to raise money for sick Serbian boy https://t.co/6RqvPGwzhSpic.twitter.com/5KtIoELrsh

— A-sideB-side Gallery (@Aside_Bside_) 8 agosto 2017
L'esposizione non è solo destinata a promuovere il talento di Farhad, che si ispira a Dalì e Picasso e sogna un giorno di vivere in Svizzera e diventare un grande pittore. Il ricavato andrà infatti a Nemanja Damcevic, un bambino serbo in cura a Parigi dopo aver subito una operazione per un tumore al cervello.