X-37b: spazio andata e ritorno, ma per fare cosa? Il velivolo più segreto dell'aeronautica americana
Commenti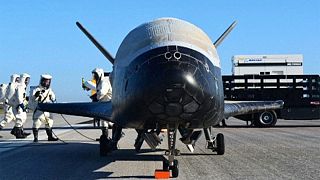 Dopo una missione durata due anni circa è atterrato a Cape Canaveral, in Florida, l' X-37B , uno dei velivoli più segreti messi a punto per conto dell'aviazione militare statunitense.
Si tratta di uno spazioplano sperimentale, senza pilota. Una volta posizionato in orbita è in grado di volare ed atterrare autonomamente.
Il suo impiego, così come l'obiettivo di questa missione, rimangono top secret. Uno dei potenziali utilizzi sarebbe quello, in futuro, di fare la spola con la Stazione spaziale internazionale.
US Air Force's mysterious X-37B space plane returned to Earth on Sunday after completing a secret space mission that lasted nearly 2 years pic.twitter.com/kvRjH1wtkZ

— People's Daily,China (@PDChina) 8 maggio 2017
Guerra satellitare?
Secondo alcuni il velivolo potrebbe essere una base operativa per l'uitlizzo di armi piazzate in orbita, a difesa delle costellazioni di satelliti di geolocalizzazione, ad esempio.
Secondo altri l'apparecchio trasporterebbe materiale di spionaggio, sempre collegato all'attività satellitare (ci sono oltre duemila satelliti attualmente in orbita intorno alla Terra), oppure di sorveglianza radar, o di ricerca.
A creare il mistero intorno all'X-37B c'è anche il fatto che il progetto è in gran parte coordinato dall'altrettanto misteriosa agenzia governativa americana DARPA (Defense Advanced Research Projects Agency) basata ad Arlington, Virginia.