Donald Trump: "i rapporti su di me sono immondizia"
Commenti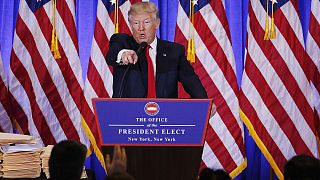 Un Donald Trump furioso si è presentato alla sua prima conferenza stampa da quando ha conquistato la Casa Bianca. Ignorando in modo evidente i giornalisti o i media a lui antipatici e soprattutto mettendone all'indice due: la Cnn, per aver parlato del rapporto che lo vuole troppo legato alla Russia e quindi ricattabile da Mosca, ma soprattutto il sito Buzzfeed che quel rapporto, ricco di riferimenti scabrosi fra il magnate e diverse prostitute, ha pubblicato integralmente in rete.
Così Trump: "È una vergogna quello che è stato fatto. Una cosa che sarebbe stata fatta nella Germania nazista."
Russia has never tried to use leverage over me. I HAVENOTHING TO DO WITHRUSSIA – NO DEALS, NO LOANS, NO NOTHING!

— Donald J. Trump (@realDonaldTrump) 11 gennaio 2017
Il tycoon ha cercato di smarcarsi dalle accuse, affermando che la sua sarà una presidenza che incuterà rispetto nel resto del mondo: "La Russia rispetterà molto di più il nostro Paese quando andrò alla guida di questa nazione, più di quanto non sia accaduto con le persone che l'hanno guidata finora. Vedrete. Anche la Russia ci rispetterà di più. E non solo loro. Guardate cos'è successo. (Voi media) non dite le cose come stanno. Venti millioni di account sono stati hackerati dalla Cina e questo perché non abbiamo difese".
Poi è passato ad assicurare che il progetto della costruzione di un muro fra Messico e Stati Uniti non solo si farà, ma verrà anche finanziato dallo Stato vicino: :"Costruiremo il muro. Dovremo attendere un anno e mezzo prima di terminare i negoziati con il Messico, che inizieranno il giorno dopo che cominceremo il nostro lavoro. Non voglio attendere. Il Messico in qualche forma, e ce ne sono molte, ci rimoborserà . Certo, ci rimborseranno i costi del muro".
Dishonest media says Mexico won't be paying for the wall if they pay a little later so the wall can be built more quickly. Media is fake!

— Donald J. Trump (@realDonaldTrump) 9 gennaio 2017