Bombe su Aleppo: guerra di cifre (e salvataggio in extremis)
Commenti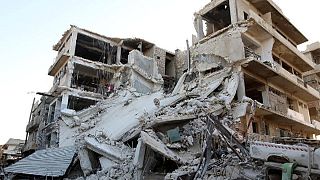 Mentre la diplomazia si affanna per frenare il massacro, le bombe continuano a cadere su Aleppo. Dalla Russia, alleata di Bachar Al Assad arrivano immagini di attacchi nella parte occidentale della città, sotto controllo governativo. Uno di questi sarebbe stato rivolto contro il quartiere residenziale di Said Ali e – secondo le stesse fonti – avrebbe fatto oltre una ventina di feriti. 25 in due giorni i morti contati sempre dalla televisione russa.
RT films aftermath of deadly #shelling of residential areas in #Aleppo (GRAPHIC)https://t.co/hbZgc1lmVF

— RT (@RT_com) 17 ottobre 2016
Nella parte orientale della città, sotto il controllo dei ribelli, l'ONG dei cosiddetti "Elmetti bianchi" riferisce di un attacco in cui lunedì avrebbero perso la vita 14 persone di una stessa famiglia, tra cui 2 neonati e 6 bambini.
14 killed including 8 Children and 2 women, all of the same family, after their homes were targeted by an airstrike in Al Marja in #Aleppo.

— The White Helmets (@SyriaCivilDef) 17 ottobre 2016
Immagini imputate allo stesso episodio mostrano il salvataggio di un giovane che sarebbe rimasto a lungo intrappolato tra le macerie dell'edificio colpito e sospeso nel vuoto, prima di essere tratto in salvo e trasportato in ospedale.