Las Vegas: abbattuto l'hotel Riviera e il suo casinò, fu location di molti film
Commenti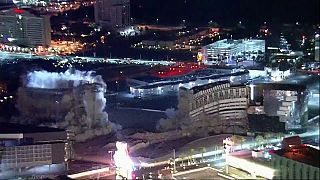 Il celebre hotel Riviera di Las Vegas è stato ridotto in polvere con il suo casinò. Inaugurato nell'aprile del 1955, l'hotel ha chiuse le sue porte nel 2015. Con 23 piani e 2075 stanze, rappresentava uno degli alberghi simbolo della città.
In true #LasVegas fashion, the Riviera Hotel and Casino goes out with a bang #implosionpic.twitter.com/3aPINKRhnh

— Evan Posocco (@evanposocco) 16 agosto 2016
Il Riviera era stato anche location di molti film hollywoodiani, come "Ocean's Eleven" del 1960 con Frank Sinatra. Al suo posto è prevista l'espansione del Las Vegas Convention Center.