Nba: Detroit sbanca Chicago, playoff a rischio per i Bulls
Commenti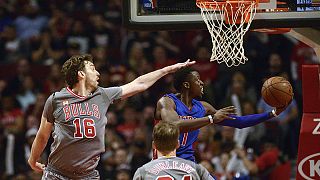 Si allontanano sempre di piu' i playoff per Chicago, che cade in casa 94-90 contro Detroit e rischia di finire in anticipo la stagione. Ai Bulls, ancora senza l'infortunato Derrick Rose, non basta la serata da incorniciare di Jimmy Butler, che fa segnare la prima tripla doppia della carriera con 28 punti, 17 rimbalzi e 12 assist.
Reggie hit all the key free throws and made plenty of plays during his 22-point night.https://t.co/0KXMX1gAQj

— Detroit Pistons (@DetroitPistons) 3 aprile 2016
I Pistons mandano cinque uomini in doppia cifra, tra cui uno scatenato Reggie Jackson, che chiude con 22 punti e i liberi decisivi nel finale. Detroit conferma la settima piazza ad Est, con due vittorie e mezzo di vantaggio sui Bulls, noni e sempre piu' lontani da un posto ai playoff.
Jimmy Butler put up 28 points and career highs of 17 rebounds and 12 assists for the ChicagoBulls</a>.<a href="https://t.co/QobIkvoGXo">https://t.co/QobIkvoGXo</a></p>&mdash; NBA (NBA) 3 aprile 2016