Attacchi a Bruxelles, sicurezza rafforzata in tutta Europa
Commenti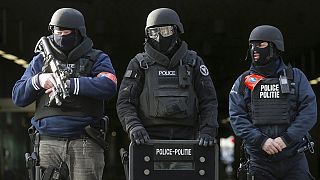 Misure di sicurezza rafforzate negli aeroporti di tutta Europa dopo i fatti di Bruxelles. A Francoforte poliziotti con armi pesanti pattugliano la struttura.
All flights at #brusselsairport today are cancelled. Contact your airline for further instructions. Avoid the surroundings of the airport.

— Brussels Airport (@BrusselsAirport) 22 mars 2016
L'aeroporto della capitale belga resterà chiuso anche mercoledì, mentre nella sola giornata di martedì sono stati annullati oltre 500 voli.
Due to increased security measures there may be additional vehicle controls at the access roads to FRA. https://t.co/Sao0ZcF4AA

— Fraport AG (@Airport_FRA) 22 mars 2016
Le ferrovie tedesche, dal canto loro, hanno fermato ad Aquisgrana i treni ad alta velocità diretti a Bruxelles.
The airport will remain closed through Wednesday says #brusselsairport CEO @arnaudfeist

— Brussels Airport (@BrusselsAirport) 22 marzo 2016
Stesso scenario in Francia, dove è stato chiuso il confine con il Belgio. All'aeroporto Charles de Gaulle di Parigi sono stati dispiegati veicoli blindati e una quarantina di poliziotti in più del normale. In Italia è scattato l'allarme ed è stata diramata un'allerta a tutte le questure e le prefetture per la protezione degli obiettivi sensibili.
Trains are not currently running to or from Brussels. A limited service is operating this afternoon to/from Lille Europe.

— Eurostar (@Eurostar) 22 mars 2016
Presenza delle forze dell'ordine potenziata anche alla stazione di Saint Pancras a Londra, punto di arrivo dei treni Eurostar che attraversano il canale della Manica diretti a Bruxelles (tutti cancellati). Sicurezza rafforzata persino oltreoceano, nei punti di snodo della città di New York.