Licenziata giornalista ungherese che ha preso a calci migranti
Commenti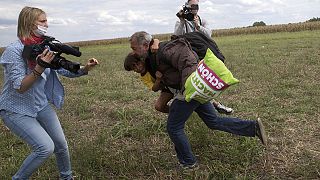 C'è che s'interroga su come accogliere i migranti e chi, meno prosaicamente, li prende a calci negli stinchi. È il caso di una giornalista ungherese, Petra Làszlò, che stava girando delle immagini vicino al villaggio di Roske, al confine con la Serbia.
Prima lo sgambetto ad un uomo che, con in braccio un bambino, cerca di evitare la polizia. Poi i calci ad altri due migranti, due adolescenti, che si sono appena divincolati dal blocco degli agenti ungheresi.
Confirmation that #PetraLazslo was fired for kicking and tripping fleeing #refugees. #Hungary
http://t.co/VFMEsxMJRTpic.twitter.com/mYXSW4jqVH

— Breaking3zero U.S. (@Breaking3zeroUS) 8 Settembre 2015
La donna, che lavorava per N1TV, una televisione via internet vicina all'estrema destra del partito ungherese Jobbik, è stata licenziata. Le immagini sono state girate e diffuse sul web da un reporter tedesco che si trovava sul posto.