Spagna: addio alla duchessa d'Alba, la più aristocratica del mondo
Commenti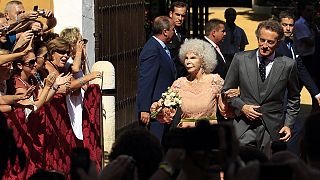 È morta a 88 anni Cayetana Fitz-James Stuart y Silva, la duchessa d'Alba, venti volte Grande di Spagna e tre matrimoni alle spalle.
46 titoli nobiliari, più della regina Elisabetta, la duchessa d'Alba era proprietaria di uno dei maggiori patrimoni artistici e immobiliari di Spagna.
Twitter obituary: the bluest blood of all, tacky yet funny, Duchess Cayetana Fitz-James Stuart, la Duquesa de Alba. pic.twitter.com/NBW1UWIzDK

— Peppi Nocera (@Peppi_Nocera) November 20, 2014
Nel 2011, a 85 anni, la battagliera duchessa, nota per la passione per il flamenco e la corrida e che aveva già seppellito due mariti, si era sposata nuovamente con un uomo di 25 anni più giovane.
#BREAKING Duchess of #Alba has died aged 88 (AFP</a>) <a href="http://t.co/ZrjPvVGemC">pic.twitter.com/ZrjPvVGemC</a></p>&mdash; euronews (euronews) November 20, 2014
Ribattezzata 'duchessa ribelle' per la sua personalità anticonformista, è morta nel suo palazzo di a Siviglia.
Morta la duchessa d'Alba. Quindici volte Grande di Spagna e tre matrimoni alle spalle. FOTOhttp://t.co/4kjMrw8J0Tpic.twitter.com/bKMmQSz6Ap

— Agenzia

ANSA

(@Agenzia_Ansa) November 20, 2014
Circondata dai sei figli, si è spenta a causa di complicazioni provocate da una polmonite. La notizia della sua morte è stata confermata dal sindaco di Siviglia, Juan Ignacio Zoido, in un twitter: "Donna Cayetana ha sempre portato Siviglia nel cuore e per questo resterà sempre nel cuore di Siviglia. Riposi in pace".
Doña Cayetana siempre llevó a Sevilla en el corazón y por eso permanecerá para siempre en el corazón de Sevilla. Descanse en paz.

— Juan Ignacio Zoido (@zoidoalcalde) November 20, 2014