Basket: Showtime Lakers diventa serie Tv
Commenti
Di ANSA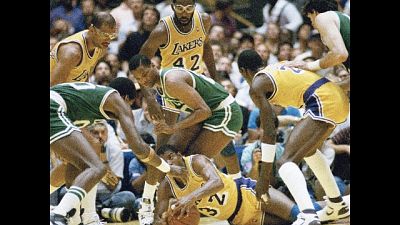 (ANSA) – ROMA, 2 AGO – Nel momento in cui la NBA sta per
celebrare i 70 anni, arriva l'annuncio della rete tv
statunitense HBO che il celebre 'Showtime', il gioco
spettacolare, dei Los Angeles Lakers dominatori degli anni '80
diventa una serie televisiva. Il 'serial' si baserà sul libro,
che negli States ha avuto grande successo, ""Showtime: Magic,
Kareem, Riley and the Los Angeles Lakers Dynasty of the 1980s",
dello scrittore Jeff Pearlman, che tratta del team e di uno dei
periodi più appassionanti della storia del basket. E' già stato
scelto l'attore, Jason Clarke, che interpreterà l'ex fuoriclasse
Jerry West che di quei Lakers era il general manager. Regista
sarà Adam McKay. "Non vedo l'ora di cominciare a girare – è
stato il suo commento -: ho letto il libro e mi ha appassionato.
C'è il sesso, il razzismo, ci sono tragedie e storie di
redenzione, e un cambio culturale gigantesco negli Usa". Ora non
rimane che trovare gli interpreti adatti per i vari 'Magic'
Johnson, Kareem Abdul-Jabbar, James Worthy, Kurt Rambis, coach
Pat Riley.
euronews pubblica le notizie d'ansa ma non interviene sui contenuti degli articoli messi in rete. Gli articoli sono disponibili su euronews.net per un periodo limitato.