Cina, concorrenza a Airbus e Boeing
Commenti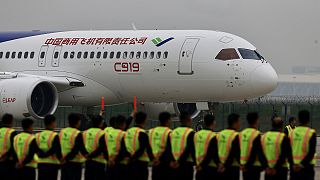 Il C919, il primo volo commerciale cinese, rivale del duopolio Airbus e Boeing, ha superato la prova del primo test. L'aereo costruito dall'azienda pubblica Commercial Aircraft Corporation of China (Comac), è decollato alle 14 ora locale, dall'aeroporto internazionale di Shanghai. A bordo solo 5 membri dell'equipaggio, che un'ora e mezzo dopo al rientro sono stati salutati dagli applausi delle persone radunate lungo la pista.
#comac 1st #c919 taxi to runway. pic.twitter.com/WbKbI63Q1d

— Ryan Wang (@rainmmm) May 5, 2017
La Comac spera, con questo aereo, in grado di trasportare 168 passeggeri lungo le tratte di medio raggio, di fare concorrenza sui voli regionali alle altre due compagnie rivali. Dopo un'importante investimento di risorse e denaro, la Cina inaugura così lo sbarco nell'industria aereonautica commerciale con la produzione di modelli a costi ridotti rispetto ad Airbus e Boeing.
China's 1st big passenger jet #C919 completes maiden flight https://t.co/iGB9wZ6eDTpic.twitter.com/QKo8U2YU37

— Jon Ostrower (@jonostrower) May 5, 2017