La crisi slovena e il rischio del sesto bailout nell'eurozona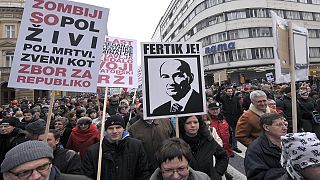 La crisi azzanna la Slovenia, che rischia di diventare il sesto membro dell'eurozona a dover richiedere un piano di salvataggio. Le principali banche del paese, in parte controllate dallo stato, hanno bisogno di essere ricapitalizzate. E Bruxelles sollecita una seria politica di privatizzazioni.
Gli ospiti in questa puntata di The Network sono: Mojca Kleva, eurodeputato sloveno dei Socialisti e Democratici, membro della Commissione per gli affari economici e monetari; Jeffrey Anderson, direttore Affari europei presso l'Institute of International Finance di Washington; Zsolt Darvas, ricercatore del think tank economico Bruegel, a Bruxelles.