Ruanda: è plebiscito per il presidente Kagamé
Commenti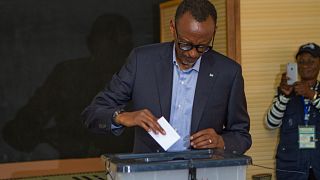 Plebiscito per Paul Kagame alle elezioni presidenziali. L' uomo forte del Ruanda è stato rieletto capo dello stato, per la terza volta in 23 anni, con oltre il 98% dei voti.
Kagame è duramente criticato per i suoi modi autoritari e antidemocratici, ma, forte di una crescita del PIL del 7%, è comunque riconosciuto per la sua abilità in politica come in economia.
Today in #Rugunga, President PaulKagame</a> and Mrs Kagame joined fellow voters in shaping the future of this nation. <a href="https://twitter.com/hashtag/PresidentialElections?src=hash">#PresidentialElections</a>. <a href="https://t.co/xeI4aGWGcC">pic.twitter.com/xeI4aGWGcC</a></p>— First Lady of Rwanda (FirstLadyRwanda) 4 août 2017
Il presidente ruandese ha comunque corso una gara praticamente senza avversari. Gli altri due candidati hanno totalizzato meno dell'uno per cento ciascuno.
Frank Habineza, leader del Partito democratico dei Verdi, e unico rappresentante di uno schieramento di opposizione, ha raccolto meno dello 0,27% dei consensi. Meglio Philippe Mpayimana, ex giornalista e candidato indipendente, che ha superato la soglia dello 0,70%
Secondo i dati della Commissione elettorale il 97% dei quasi 7 milioni di elettori si è recato alle urne.
Grazie a un emendamento costituzionale fatto approvare nel 2015, Kagame ha la possibilità di ripresentarsi e restare al potere fino al 2034.