Tassi invariati (ma commenti stizziti). Draghi sorprende dopo il board BCE
Commenti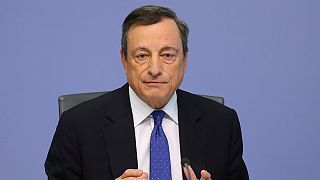 Una stoccata a Schäuble per le sue critiche alla BCE, un disappunto appena mascherato per le politiche di Donald Trump e nessun cambiamento sul fronte della politica monetaria. Più che il dato economico, a regalare sorprese nella conferenza stampa del presidente Mario Draghi dopo il board della BCE, sono i suoi commenti piccati.
Politiche monetarie invariate: il comunicato della BCE
"Discutiamo di politiche, non di politica".La piccata risposta sul possibile "effetto Macron"
"Non basiamo la politica monetaria sui risultati probabili di un'elezione -, taglia corto Draghi con chi evoca la prospettiva di Macron all'Eliseo -. Nel Consiglio direttivo (ndr: della BCE) discutiamo di politiche, non di politica".
Draghi: In the Governing Council, we discuss policies not politics

— ECB (@ecb) 27 avril 2017
Ancora incognite da Oltreceano. Su Trump Draghi non si sbilancia
Infastidito anche il commento sul magro bilancio di chiarimenti sulle nuove politiche statunitensi, con cui è tornato dai recenti Incontri di primavera di Washington. "I rischi di protezionismo commerciale sono forse diminuiti. I mercati stanno certamente rivalutando la politica fiscale dell'amministrazione americana, ma non noi. E francamente non mi avventurerei a dire altro".
"Rischi sempre più bassi, ma l'inflazione non segue la ripresa"
"Una dose considerevole di politiche monetarie espansive è necessaria per assicurare un ritorno stabile dell'inflazione verso la soglia del 2%", ha detto Mario Draghi.
Draghi: Underlying inflation pressures continue to remain subdued and have yet to show a convincing upward trend

— ECB (@ecb) 27 avril 2017
Draghi: The cyclical recovery of euro area economy is becoming increasingly solid and downside risks have further diminished

— ECB (@ecb) 27 avril 2017
L'inflazione che ancora stenta a tenere il passo della ripresa è quindi la principale spiegazione fornita per le immutate politiche monetarie. Eppure, dice Draghi, i rischi sono ormai più che altro legati a "fattori globali" e nella zona euro, dove erano già al ribasso, sono ulteriormente calati.