Treno deraglia a Philadelphia: almeno 5 morti e una cinquantina di feriti
Commenti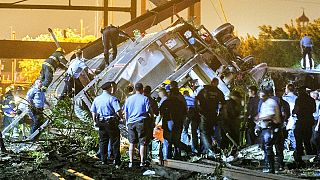 Si aggrava il bilancio del deragliamento avvenuto a Philadelphia. Le ultime cifre riferiscono di almeno 5 morti e una cinquantina di feriti, di cui sei in condizioni critiche.
Lo spettacolo è desolante - ha detto il sindaco di Philadelphia, Michael Nutter -. Mai visto qualcosa del genere in vita mia
Ancora ignote le cause che hanno fatto uscire dai binari il treno, un regionale della compagnia Amtrak diretto da Washington a New York con 238 passeggeri a bordo.
"Sono stato sul luogo dell'incidente con gli uomini del mio staff – ha raccontato il sindaco di Philadelphia, Michael Nutter -. E' un vero disastro, lo spettacolo è desolante. Non avevo mai visto una cosa del genere in vita mia, e molti dei soccorritori direbbero la stessa cosa".
I feriti sono stati smistati in autobus in diversi ospedali della zona. A prestare i primi soccorsi gli stessi passeggeri, che così ricostruiscono l'accaduto.
"Abbiamo sentito che il treno stava uscendo dai binari – racconta uno di loro -. Poi ricordo solo che ci siamo accalcati verso l'uscita d'emergenza. C'erano persone che urlavano, altre coperte di sangue… Le abbiamo aiutate ad uscire e poi sono state soccorse".
13 Maggio 2015
Sei, più la locomotiva, i vagoni deragliati. L'incidente è avvenuto in corrispondenza di una curva, nel 1943 già teatro di un incidente che costò la vita a 79 persone. Nota come "northeast corridor", la tratta ferroviaria interessata è una delle più trafficate degli Stati Uniti.
One of America's worst train crashes happened 72 years ago on the same curve: http://t.co/SHRSo7LwaK#Amtrakpic.twitter.com/izH398QhyY

— Slate (@Slate) 13 Maggio 2015
La tratta è stata chiusa nelle ore immediatamente successive all'incidente. Aggiornamenti in tempo reale sul traffico ferroviario sono disponibili tramite la compagnia Amtrak che gestisce il servizio.
Update regarding service on the Northeast Corridor for Wednesday, May 13: http://t.co/NrbRlMazfl.

— Amtrak (@Amtrak) 13 Maggio 2015