Sulla Brexit gli eurodeputati chiedono chiarezza
Commenti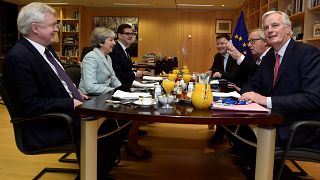 La Brexit approda al Parlamento europeo: durante la sessione plenaria di mercoledì, gli eurodeputati voteranno una risoluzione per stabilire se gli accordi raggiunti durante la prima fase dei negoziati con il Regno Unito permettono di passare alla definizione delle future relazioni tra Londra e Bruxelles e successivamente entrare in un periodo di transizione di due anni. Ma il leader dei conservatori. Manfred Weber, preferisce mostrarsi cauto.
"Un eventuale periodo di transizione di penderà dai progressi fatti nella seconda fase", ha affermato martedi. "Altrimenti non ci sarà nessun periodo di transizione".
A transitional period, during which the UK will enjoy continued access to the European Single Market, is not an automatism. It will depend on the results of the second round of talks. Read my opinion piece in PoliticoEurope</a> <a href="https://twitter.com/hashtag/Brexit?src=hash&ref_src=twsrc%5Etfw">#Brexit</a> <a href="https://t.co/e89RPl40qo">https://t.co/e89RPl40qo</a></p>— Manfred Weber (ManfredWeber) 12 dicembre 2017
Sul rispetto dell'accordo raggiunto venerdì Londra si gioca la credibilità sulla scena internazionale e l'eurodeputati chiedono garanzie.
"Ci sono alcuni aspetti incerti, in particolare sui diritti dei cittadini, che vogliamo siano vincolanti nell'accordo finale". ha chiarito il belga Philippe Lambert.
L'accordo preliminare siglato nei giorni scorsi sulla prima fase della Brexit da RegnoUnito e UE sarà sottoposto ai leader europei durante il vertice di giovedì. Molti eurodeputati ritengono che in quella occasione la premier britannica debba chiarire che il testo cosi approvato sarà giuridicamente vincolante.