Russiagate, Trump furioso con l'ex stratega: "Ha perso la testa"
Commenti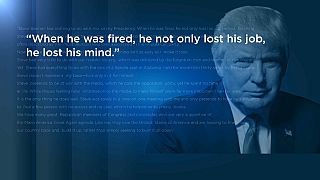 Donald Trump è furioso con il suo ex stratega Steve Bannon, che in un libro di cui il Guardian ha pubblicato alcune anticipazioni, ha definito "sovversivo e antipatriottico" il famoso incontro alla Trump Tower tra il primogenito di Trump e un gruppo di russi durante la elezioni.
In "Fire and Fury: Inside the Trump White House", Bannon dichiara che le indagini sulle possibili collusioni tra il Cremlino e lo staff di Trump si concentreranno sul "riciclaggio di denaro sporco" e si lancia in una previsione: "Quelle indagini schiacceranno Don junior (Donald Trump jr.) come un uovo sulle tv nazionali".
Bannon "non solo ha perso il lavoro, ha perso anche la testa", ha dichiarato Trump, ricordando che Bannon è stato licenziato e non ha "niente a che fare" con lui o con la sua presidenza.
Le accuse di Bannon sono "ridicole", ha rincarato la dose la portavoce della Casa Bianca Sarah Sanders: "Questi commenti sono in contraddizione con quanto Bannon disse alla trasmissione "60 minutes". In quell'occasione definì le collusioni con il Cremlino una farsa totale".