Russia-Filippine: armi in regalo al "Presidente Rambo"
Commenti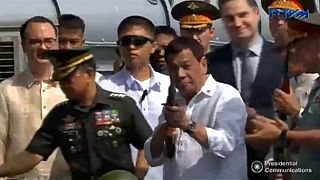 Kalashnikov, munizioni e veicoli militari: Mosca è più vicina (grazie alla diplomazia delle armi)
Un bastimento carico, carico di… armi. Duterte ringrazia e ricevendo un profumato regalo russo, sbatte il consolidamento dell'asse tra Manila e Mosca, sotto il naso di Washington. 5.000 kalashnikov, 20 veicoli militari e un milione di munizioni, la donazione è sulla carta volta principalmente a potenziare l'offensiva del "Presidente Rambo" contro il sedicente Stato Islamico.
LOOK: Duterte receives military equipment from Russia https://t.co/ZBlVD9L7WDpic.twitter.com/wDC0kQ1v8o

— CNN Philippines (@cnnphilippines) October 25, 2017
Cinque navi militari russe in porto: il benvenuto di Manila al segretario alla difesa americano Mattis
Arrivato a bordo di una delle cinque navi militari russe, da venerdì ormeggiate nelle acque della capitale filippina, il regalo di Mosca sugella due accordi di cooperazione tecnica e militare siglati negli scorsi giorni a margine di un summit dell'Asean, l'Associazione delle nazioni del sud-est asiatico.
#SecDef Mattis met with the President of the Philippines Rodrigo Duterte during the @ASEAN meeting in Clark, #Philippines today. pic.twitter.com/4QUjwYmUnl

— U.S. Dept of Defense (@DeptofDefense) 25 ottobre 2017
La diplomazia statunitense minimizza: "Nessuna inquietudine per l'avvicinamento di Manila a Mosca e a Pechino"
Intervenuto proprio mentre allo stesso vertice presenziava il Segretario alla difesa
USA
James Mattis, l'ennesimo schiaffo di Manila a Washington è stato minimizzato dalla diplomazia a stelle e strisce, che tramite l'ambasciatore Sung Kim ha negato qualsiasi inquietudine, per l'avvicinamento delle Filippine a Russia e Cina.
Le armi di Mosca per sconfiggere i jihadisti (ma a Marawi la battaglia si è appena conclusa)
Sulla carta principalmente finalizzato a potenziare il contrasto all'
ISIL
, l'accordo militare tra Mosca e Manila coincide con l'annuncio ufficiale da parte delle autorità filippine, di aver debellato i jihadisti che imperversavano da cinque mesi nella regione di Marawi.
Great discussion on U.S.-PH defense cooperation, esp. counterterrorism & Marawi, between Pres. Duterte & SecDef Mattis in Clark yesterday. pic.twitter.com/DMlZrW3OIR

— Ambassador Sung Kim (@USAmbManila) 25 ottobre 2017