Trump: "Lascerò le mie aziende per risolvere il conflitto di interessi"
Commenti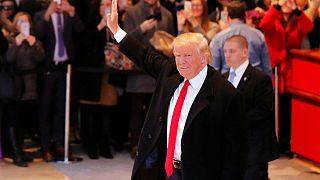 Donald Trump affronta il suo conflitto di interessi.
Con una serie di tweet il presidente eletto degli Stati Uniti annuncia: "Il 15 dicembre, con i miei figli, terrò una conferenza stampa per spiegare come lascerò completamente le mie grandi aziende per dedicarmi solo al governo del Paese."
do this under the law, I feel it is visually important, as President, to in no way have a conflict of interest with my various businesses..

— Donald J. Trump (@realDonaldTrump) November 30, 2016
Intanto il futuro capo della Casa Bianca ufficializza altri nomi della sua compagine governativa.
Segretario al Commercio sarà il miliardario Wilbur Ross, contrario agli accordi internazionali in materia.
Al Tesoro andrà Steven Mnuchin, ex socio di Goldman Sachs e produttore cinematografico.
"La nostra priorità numero uno sarà l'economia", assicura. "Tornare a una crescita del 3-4 per cento crediamo sia assolutamente fattibile. Focalizzarci su ciò che interessa i lavoratori americani è la nostra priorità."
L'ufficio per la transizione alla Casa Bianca fa sapere che per la delicata carica di Segretario di Stato il cerchio si è ristretto a 4 candidati.
Il favorito sembra sempre Mitt Romney, che Trump ha incontrato per la seconda volta in pochi giorni.