Al via in Sudafrica la conferenza internazionale sulla tutela delle specie
Commenti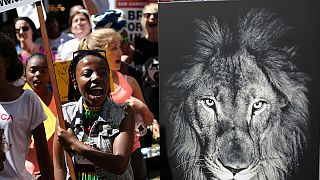 Il bracconaggio in aumento è al centro della conferenza internazionale sul commercio delle specie minacciate di estinzione, in corso in Sudafrica fino al 5 ottobre.
Largest ever World #Wildlife Conference, the CITES#CoP17, kicks off in #SouthAfrica. Find the CITES</a> PR here: <a href="https://t.co/4P5b9RsV39">https://t.co/4P5b9RsV39</a> <a href="https://t.co/brFALD15Ts">pic.twitter.com/brFALD15Ts</a></p>&mdash; CITES (CITES) 23 septembre 2016
Oltre ai 3500 delegati dei 183 membri firmatari dell'accordo sulla protezione della fauna e della flora, sono presenti migliaia di ambientalisti che chiedono il divieto totale del commercio delle zanne di avorio degli elefanti e dei corni di rinoceronte.
"Dobbiamo proteggere tutti i rinoceronti, non deve esserci un declassamento", afferma Jan Cremer, presidente di Animal Defenders International. "Queste specie rischiano l'estinzione ed è colpa nostra".
On the move in Johannesburg! #MarchAgainstExtinction#CoP17
ADICITES campaign details: https://t.co/013bUnyuKnpic.twitter.com/L56LoV4ikn

—

ADI

(@AnimalDefenders) 24 septembre 2016
Il commercio internazionale di avorio è vietato da quasi 30 anni, ma molti mercati interni rimangono aperti. In crescita c'è poi il bracconaggio, alimentato da organizzazioni criminali, quarto traffico illegale al mondo dal valore di quasi 20 miliardi di euro l'anno.
Un traffico che ha inciso sulla popolazione di elefanti in Africa, diminuita del 30% fra il 2007 e il 2014.