Judo: Francia prima nel medagliere del Grand Prix di Samsun
Commenti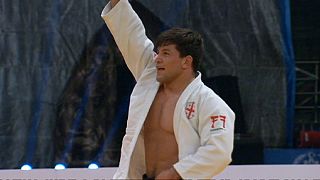 Terza e ultima giornata per il Grand Prix di Judo a Samsun, in Turchia.
E il medagliere della Francia si arricchisce di altri due ori e un argento.
+100 kg
Iniziamo dalla categoria oltre cento chili. Il transalpino Teddy Riner, campione olimpico, impegnato in finale contro il georgiano Levani Matiashvili, si è imposto grazie a un waza-ari realizzato all'ultimo secondo. Per il francese si tratta del primo torneo e della prima medaglia
d'oro del 2016. Bronzo per un altro georgiano, Adam Okruashvili, e per l'israeliano Rafael Silva.
Direction la Turquie pour le Grand Prix de Samsun, avant les chpts d'Europe! #judopic.twitter.com/mQQ2PPSBHQ

— Teddy Riner (@teddyriner) March 31, 2016
-100 kg
Beka Gviniashvili vince la medaglia d'oro nella categoria meno cento chili. In finale il georgiano batte il brasiliano Rafael Buzacarini per yuko. Bronzo per il mongolo Tsogtgerel Khutag e per l'ungherese Miklós Cirjenics.
- 90 kg
Primo oro in un Grand Prix per Khusen Khalmurzaev, nella categoria -90 chili. La finale con l'azero Mammadali Mehdiyev si decide soltanto per una penalità di differenza tra i due judoka. Bronzo per il brasiliano Tiago Camilo e per l'uzbeko Dilshod Choriev.
-78 kg
Finale tutta transalpina nella categoria donne -78 chili. Madeleine Malonga ha battuto la connazionale e testa di serie numero uno Audrey Tcheuméo. Quest'ultima, medaglia di bronzo alle olimpiadi di Londra nel 2012, ha accumulato quattro shido, regalando all'avversaria la vittoria per hansoku-make.
Bronzo per la nordcoreana Sol Kyong e per la spagnola Marta Tort Merino.
Malonga benefits with gold in sloppy French final of Tcheumeo <a

*Sorpresa del giorno*

La sorpresa del giorno arriva dalla portoricana
Mellissa Mojica che raggiunge la finale nella categoria donne +78 kg, ma deve inchinarsi alla sudcoreana Kim Ji-Youn vincitrice per tre shido a uno. Sul gradino più basso del podio l'ucraina Svitlana Iaromka, testa di serie numero uno del torneo, e la tedesca Jasmin Külbs

*Immagine del giorno*

Come immagine del giorno scegliamo la vittoria al secondo turno di Beka Gviniashvili, oro nella categoria meno cento chili, che ha eliminato per ippon l'azero Elmar Gasimov, numero uno al mondo.