Gli USA alla prova del fuoco. Brucia la Napa Valley
Commenti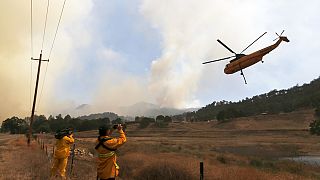 Si aprono nuovi fronti nella lotta agli incendi degli Stati Uniti. Se a concentrare preoccupazioni e risorse sono soprattutto i roghi che stanno divorando la California, ulteriori focolai hanno costretto all'evacuazione dell'intera Roosevelt, cittadina di circa duecento abitanti dello Stato di Washington.
I responsabili locali dei soccorsi hanno decretato la misura in seguito all'estensione dei roghi a ridosso della strada statale che assicura l'accesso alla città. Nessuna abitazione è tuttavia stata danneggiata.
.@StephenKATU@KATUNews with the fire near the road, the closure is for safety. pic.twitter.com/CzsaVNB3l5

— WSDOT - SW Region (@wsdot_sw) 5 Agosto 2015
Resta invece drammatica la situazione in California, dove il fronte del fuoco ha raggiunto la regione vinicola della Napa Valley. Secondo le autorità "senza precedenti", l'incendio aveva martedì costretto all'evacuazione 13.000 persone e minacciava ancora 7.000 abitazioni.