Rio 2016: Lilesa non vuole tornare in Etiopia, teme per la sua incolumità
Commenti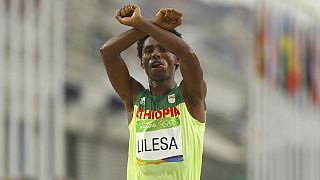 Non vuole lasciare il Brasile Feyisa Lilesa, l'atleta etiope che ha tagliato il traguardo della maratona con i polsi incrociati, mimando delle manette.
Feyisa Lilesa's gesture of solidarity at the Rio Olympics could cost him his life https://t.co/LeGaLgRpd4pic.twitter.com/WHrh3qkYA5

— Mic (@mic) 21 agosto 2016
In conferenza stampa il vicecampione olimpico ha spiegato il perché di questo gesto, fatto in segno di protesta, per le persecuzioni nel suo Paese nei confronti dell'etnia degli Oromo, che dallo scorso novembre manifesta contro il governo. Secondo gli attivisti ci sarebbero già stati oltre 400 morti.
Nonostante un portavoce del governo abbia assicurato che, ''tornato in patria, Lilesa riceverà il benvenuto degno di un eroe'', l'atleta etiope teme seriamente per la sua sicurezza e rifiuta per il momento di partire da Rio.