Vela: team al femminile alla Barcolana
Commenti
Di ANSA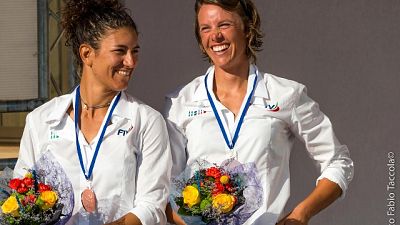 (ANSA) – ROMA, 4 OTT – Si chiama Golfo di Trieste, il Maxi
90' con il quale Francesca Clapcich, 31 anni, triestina,
campionessa del mondo 49FX nel 2015, due partecipazioni alle
Olimpiadi (2012, 2016) e una alla Volvo Ocean Race, lancia la
sfida nella 51/a Barcolana. La Clapcich sarà skipper di uno
scafo con a bordo un team composto da 22 veliste provenienti da
7 nazioni e 3 continenti. Nel loro palmares 8 titoli mondiali, 8
europei e 9 nazionali, 7 partecipazioni alla Volvo Ocean Race e
6 titoli mondiali di match race. Al timone di Golfo di Trieste
ci sarà la statunitense Sally Barkow, 39 anni, campionessa del
mondo di match race e vincitrice dell'Us Rolex World Sailor of
the Year 2005 e nel 2007, alla tattica è stata chiamata Giulia
Conti, romana, 33 anni, che nel 2015 firmò proprio con la
Clapcich un fantastico 'triplete', vincendo nello stesso anno
campionato italiano, europeo e mondiale nella classe 49FX. Il
Maxi 90 Golfo di Trieste è un progetto di Reichel/Pugh Yacht
Design ed è stato costruito nel cantiere McConaghy Boats.
euronews pubblica le notizie d'ansa ma non interviene sui contenuti degli articoli messi in rete. Gli articoli sono disponibili su euronews.net per un periodo limitato.