Wyndham Rewards, Koepka piglia tutto
Commenti
Di ANSA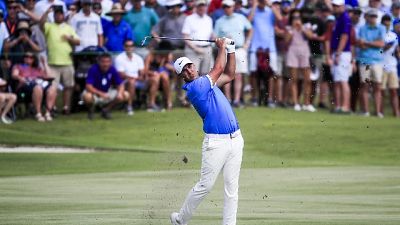 (ANSA) – ROMA, 31 LUG – Insaziabile Brooks Koepka.
L'americano, leader mondiale, con il successo nel WGC-FedEx
St.Jude Invitational ha vinto anche il Wyndham Rewards. Con un
turno di anticipo dalla chiusura della stagione regolare del PGA
Tour, il ventinovenne di West Palm Beach è già certo del primo
posto (prima dei Play-Off) nella classifica della FedEx Cup.
Il player of the year 2018 sul massimo circuito americano
incasserà un assegno da 2 milioni di dollari in attesa di
puntare ai 15 messi in palio quest'anno per il vincitore della
FedEx Cup, che verrà decretato dopo gli spareggi.
"Vincere il Wyndham Rewards – le parole di Koepka – è
fantastico. Questo è uno dei motivi che ti spingono a dare
sempre il meglio. Sono stati anni incredibili e adesso non vedo
l'ora di giocare i Play-Off".
Al secondo posto Rory McIlroy, che ha relegato sul terzo gradino
del podio Matt Kuchar. Il nordirlandese e l'americano hanno
guadagnato rispettivamente 1,5 e 1,2 milioni di dollari.
euronews pubblica le notizie d'ansa ma non interviene sui contenuti degli articoli messi in rete. Gli articoli sono disponibili su euronews.net per un periodo limitato.