Abu Dhabi vince Gara 1 Stresa Grand Prix
Commenti
Di ANSA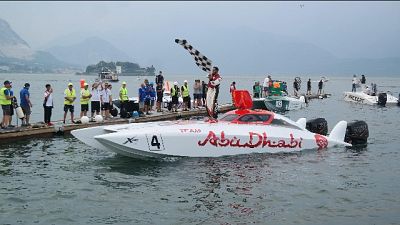 (ANSA) – ROMA, 21 LUG – Successo per Abu Dhabi 4 (UAE) in
Gara 1 dello Stresa Grand Prix of Italy – UIMXCAT World
Championship 2019. L'imbarcazione condotta da Shaun Torrente e
Faleh Al Mansoori si è imposta sul Lago Maggiore davanti a
Maritimo (AUS) di Tom Barry-Cotter e Ross Willaton che aveva
conquistato la Pole Position. A completare il podio, dopo una
lunga bagarre e tanto spettacolo, è Dubai Police (UAE) di Arif
Al Zaffain e Nadir Bin Hendi. "Siamo molto contenti
dell'accoglienza che ci ha riservato, anche quest'anno, la città
di Stresa. C'è molta passione e molto calore da parte dei
tifosi: tutto ciò è meraviglioso – ha detto il presidente UIM,
Raffaele Chiulli – Lo Stresa Grand Prix of Italy del resto, è un
appuntamento molto importante a livello internazionale, visti i
tanti paesi che sono qui rappresentati. Questo è anche un modo
per esportare un modello di made in Italy nel mondo".
euronews pubblica le notizie d'ansa ma non interviene sui contenuti degli articoli messi in rete. Gli articoli sono disponibili su euronews.net per un periodo limitato.