Bush e la passione per il green
Commenti
Di ANSA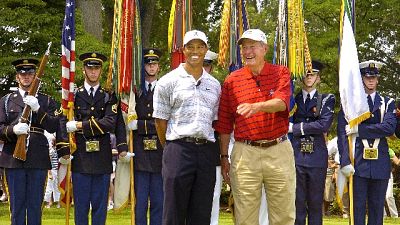 (ANSA) – ROMA, 01 DIC – Era anche un grande appassionato di
golf George H. Bush, 41/o presidente degli Usa dal 1989 al 1993,
scomparso questa notte. Si vantava spesso di aver realizzato il
record di punteggio sul green del Cape Arundel Golf Club a
Kennebunkport.
Ereditò l'amore per il green dal papà Prescott Bush, che
definiva sempre come un "golfista favoloso". E per il suo
impegno verso questo sport riuscì a conquistare riconoscimenti
importanti come il PGA of America's Distinguished Service Award
(1997), il Bob Jones Award (2008) e il Lifetime Achievement
Award (2009). Con l'American Society of Golf Course Architects
che lo ha onorato con il Donald Ross Award.
euronews pubblica le notizie d'ansa ma non interviene sui contenuti degli articoli messi in rete. Gli articoli sono disponibili su euronews.net per un periodo limitato.