Golf:Jin Yong Ko rookie dell'anno donne
Commenti
Di ANSA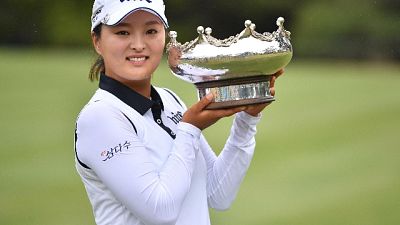 (ANSA) – ROMA, 24 OTT – Jin Young Ko è stata nominata "rookie
of the year" sul LPGA Tour. La sudcoreana ha vinto dunque il
premio di miglior debuttante sul massimo circuito statunitense
di golf femminile. "Sono davvero onorata – la gioia della 23enne
di Seoul – e ancora non riesco a crederci. La felicità è tanta
ma questo è un punto di partenza e non certo di arrivo".
Un riconoscimento arrivato dopo una stagione show da parte della
giovane player, protagonista di 2 successi (Hana Bank 2017 e
Handa Australian Women's Open 2018) e diversi piazzamenti
all'interno della Top 10 che le hanno permesso di aggiudicarsi
il titolo con 4 turni di anticipo.
euronews pubblica le notizie d'ansa ma non interviene sui contenuti degli articoli messi in rete. Gli articoli sono disponibili su euronews.net per un periodo limitato.