Spirit of Portopiccolo vince a Venezia
Commenti
Di ANSA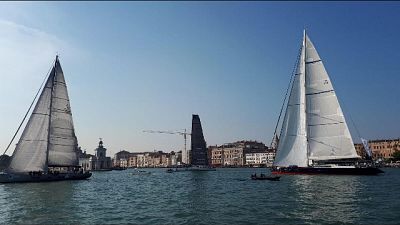 (ANSA) – VENEZIA, 20 OTT – La superbarca Spirit of
Portopiccolo non si ferma più e dopo aver confermato il suo
successo, domenica scorsa, vincendo nuovamente la Barcolana 50,
oggi si afferma nel Bacino di San Marco vincendo la Venice
hospitality challenge, la regata che vede protagonisti dodici
maxi-yacht, alcuni dei quali reduci proprio dall' appuntamento
di Trieste, abbinati al top dell'hotellerie del capoluogo
lagunare, rappresentata da altrettanti grandi alberghi
veneziani, uno per ciascuna imbarcazione. Una regata nella
quale, seppure il vento non è stato molto ed ha costretto gli
skipper a numerose manovre per recuperare quel refolo che
consentisse loro di avanzare, protagonista assoluta è stata
senz'altro la città e la sua laguna. Moltissimo pubblico
assiepato sulle rive ha potuto infatti assistere alla
competizione. Alla regata ha partecipato anche New Zealand
Endeavour, vincitrice della Whitbread Round the World Race
1993-94, timonata per l'occasione dal quattordicenne campione
del mondo Optimist 2017-2018 Marco Gradoni.
euronews pubblica le notizie d'ansa ma non interviene sui contenuti degli articoli messi in rete. Gli articoli sono disponibili su euronews.net per un periodo limitato.