Barcolana, vince Spirit of Portopiccolo
Commenti
Di ANSA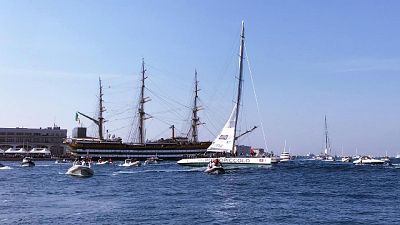 (ANSA) – TRIESTE, 14 OTT – 'Spirit of Portopiccolo', con i
fratelli Furio e Gabriele Benussi, ha vinto l'edizione 50 della
Barcolana di Trieste, in meno di un'ora. Per i fratelli
triestini si tratta del terzo successo consecutivo. Al secondo
posto 'Ottica Inn – Tempus Fugit' con al timone Mitja Kosmina
che probabilmente ha pagato la scelta nel primo lato di mettere
una vela troppo grande. Al momento del colpo di cannone che ha
sancito la vittoria di Spirit of Portopiccolo sulle rive
cittadine c'è stato l'applauso delle oltre 200 mila persone
presenti. Con un ampio distacco, al terzo posto 'Way of Life – ex Maxi Jena'.
euronews pubblica le notizie d'ansa ma non interviene sui contenuti degli articoli messi in rete. Gli articoli sono disponibili su euronews.net per un periodo limitato.