Golf: Pga Tour, Koepka giocatore anno
Commenti
Di ANSA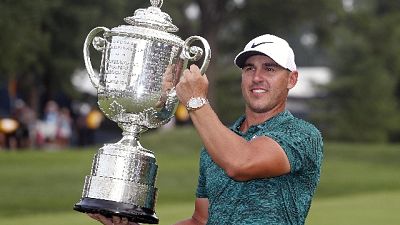 (ANSA) – ROMA, 9 OTT – E' Brooks Koepka il miglior giocatore
del 2018 sul PGA Tour (massimo circuito americano di golf). Il
doppio successo major (Us Open e PGA Championship) e la scalata
verso la leadership mondiale (è il numero 3 del world ranking)
sono valsi al campione statunitense la palma di "Player of the
year". Il fuoriclasse a stelle e strisce ha battuto la
concorrenza di Francesco Molinari, Dustin Johnson (leader
mondiale), Justin Rose (vincitore della FedEx Cup), Justin
Thomas e Bryson DeChambeau. Il 28enne di West Palm Beach
(Florida) ha iniziato la stagione ai box a causa di un
infortunio al polso che lo ha costretto anche all'operazione.
Poi è tornato sul green diventando il primo giocatore a
difendere il titolo allo US Open dal 1989 (l'ultimo a riuscirci
fu Curtis Strange), e il quinto ad imporsi in 2 tornei del
Grande Slam nella stessa stagione, eguagliando Tiger Woods
(2000). Stagione da incorniciare per Koepka, macchiata solo
dalla sconfitta in Ryder Cup. E' lui il miglior giocatore del
PGA Tour 2018.
euronews pubblica le notizie d'ansa ma non interviene sui contenuti degli articoli messi in rete. Gli articoli sono disponibili su euronews.net per un periodo limitato.