Antartide: si stacca iceberg Larsen C, è grande come isola di Cipro
Commenti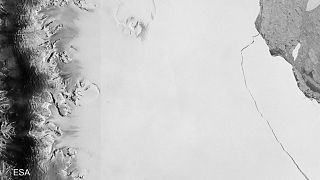 Dalla piattaforma Larsen C sulla costa orientale della penisola antartica si è staccata una fetta di ghiaccio grande come l'isola di Cipro. Non è una sorpresa, l'evento era previsto. Si tratta di uno dei più grandi iceberg mai registrati con un'estensione di 5800 chilometri quadrati. La notizia è stata confermata dal British Antartic Survey che monitora l'evoluzione del continente bianco in relazione al riscaldamento climatico.
"Negli ultimi anni si è a creata una fessura sulla piattaforma Larsen C che alla fine ha creato un iceberg, ora questo iceberg è libero di staccarsi e fondersi nell'oceano meridionale. Ci sono altre zone dell'Antartide che stanno perdendo pezzi di ghiaccio negli oceani, ma sono meno influenzati dal riscaldamento atmosferico e più da cambiamento in corso nell'oceano", spiega il glaciologo David Vaughan, direttore del British antarctic survey (Bas).
'Maps will need to be redrawn' adrian_luckman</a> iceberg calving changes landscape of Antarctic Peninsula <a href="https://t.co/RWyTRBPKGQ">https://t.co/RWyTRBPKGQ</a> <a href="https://twitter.com/NYTScience">NYTSciencepic.twitter.com/nigF95VIBH

— The Antarctic Report (@AntarcticReport) 12 luglio 2017
Ci si interroga ora sul destino della grande massa ghiacciata: potrebbe incagliarsi con il fondale vista la sua profondità ma anche restare dove si trova creando una isola di ghiaccio. Il movimento di questa fetta di ghiaccio è sotto stretta osservazione anche per evitare che costituisca un pericolo per la navigazione.