Netanyahu a Bruxelles: incontro-scontro con l'UE
Commenti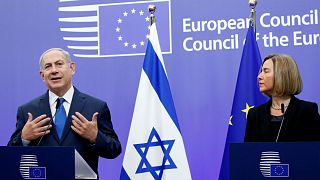 Scende il gelo nella relazioni tra Unione europea a Israele. Forte dell'appoggio americano, il primo ministro israeliano Benjamin Netanyahu, ha approfittato di una visita senza precedenti lunedì a Bruxelles per cercare di convincere i dirigenti europei a riconoscere Gerusalemme come capitale di Israele, sull'esempio degli Stati Uniti Donald Trump. Il premier ritiene che un tale riconoscimento non escluda un avanzamento nel processo di pace, e che anzi, aprirebbe nuove possibilità di dialogo.
"Stiamo facendo degli sforzi per portare avanti una nuova proposta di pace da parte dell'amministrazione statunitense ha affermato durante la conferenza stampa al termine dell'incontro con il capo della diplomazia europea Federica Mogherini penso che dovremmo dare una possibilità al processo di pace. E' ora che i palestinesi riconoscano lo stato ebraico e riconoscano anche il fatto che ha una capitale che si chiama Gerusalemme ".
#UPDATE Israeli Prime Minister Benjamin Netanyahu says that recognising Jerusalem as his country's capital "makes peace possible", after widespread international criticism of the US decision to do so https://t.co/n4owNOiC1jpic.twitter.com/8PsSPHyhfc

—

AFP

news agency (@AFP) 11 dicembre 2017
Messaggio rispedito al mittente da parte dell'UE che invece sostiene una soluzione al conflitto israelo palestinese basata su due stati, con Gerusalemme capitale di entrambi.
"Non c'è nessuna iniziativa di pace, nessun tentativo di riavviare colloqui di pace tra israeliani e palestinesi senza un impegno da parte degli Stati Uniti. Ma non c'è spazio per illusioni da parte degli Stati Uniti che l'iniziativa americana possa avere successo", ha ribattutto Federica Mogherini.
"PM Netanyahu realised there is full EU unity: only realistic solution is based on two states, with #Jerusalem as capital. We want to continue to work with the Quartet with US, Russia and UN and to enlarge this forum" FedericaMog</a> <a href="https://t.co/8AGjMBNBaE">pic.twitter.com/8AGjMBNBaE</a></p>— EU External Action (eu_eeas) 11 dicembre 2017
A fare da conrnice alla visita del premier israeliano, la prima da 20 anni, è stata una tempesta di neve che ha paralizzato la capitale europea e che ha fatto saltare l'incontro di Netanyahu con il presidente della Commissione europea Jean-Claude Juncker.